Headline News
Shut Down Diploma Mills
Dean Hoke
"I never realised that this was so big and more than that, it was the embarrassment of having been scammed. Laws and regulations need to be in place internationally in order for the whole business to be put to an end. Even if one person, somewhere, can be stopped from making the same mistake, it would be worth it."
The quote is from a person who emailed me after she learned her degree was worthless. She had spent tens of thousands of dollars on getting a Master's degree from a fictitious university which only existed on a website.
In January 2015, I came across a press release outlining efforts to "enhance the higher education standards" in the Arab world by an organization called the "Middle East Office of Academic Regulation & Examination." That name was unfamiliar to me, and I began to explore the organization's website. A live-chat pop up screen appeared, and I typed into it. The online representative from the organization asked for my credit card details in order to approve a hefty scholarship to attend a university. I had never heard of an accreditation organization anywhere in the world, which operates at an institutional level, offering financial aid to individuals.
The organization said it acted on the authority of the CGulf Ministry of Higher Education and that is when I decided to take action. A number of local and international media publications were contacted to make the public aware of bogus online universities. Within a few months stories appeared in Al Fanar and were republished in the Chronicle of Higher Education, the UAE English language paper The National, and the UAE Ministry of Interior magazine, 999 "A Degree of Illegitimacy".
At the same time the New York Times had been independently investigating a company called Axact. On May 17,  the New York Times published the investigative series on the bogus degree practices by the Pakistan corporation in Fake Diplomas, Real Cash: Pakistani Company Axact Reaps Millions. The expose brought world wide attention to how big this business really is and how many online universities' websites are a sham.
These stories have brought to the attention in the United States, Asia and the Middle East how many people have purchased bogus degrees and in turn received job promotions in a variety of fields including education, technology and the health industry. There has been significant damage to the reputation of higher education in the United States and in particular online degrees offered by U.S. schools. The fact is foreign governments have become more suspicious of the legitimacy of online degrees.
I decided to look further into the list of universities linked to Axact's operation "Tracking Axact's Websites" to determine how many people that I have a connection with have a degree from one or more of these schools. I went into my LinkedIn account and began a search of each university which generated a list of individuals who self report being a graduate of one of the bogus school. I restricted my search to the GCC countries (Saudi Arabia, United Arab Emirates, Bahrain, Kuwait, Qatar, and Oman), and below are the results of 74 universities on the New York Times list: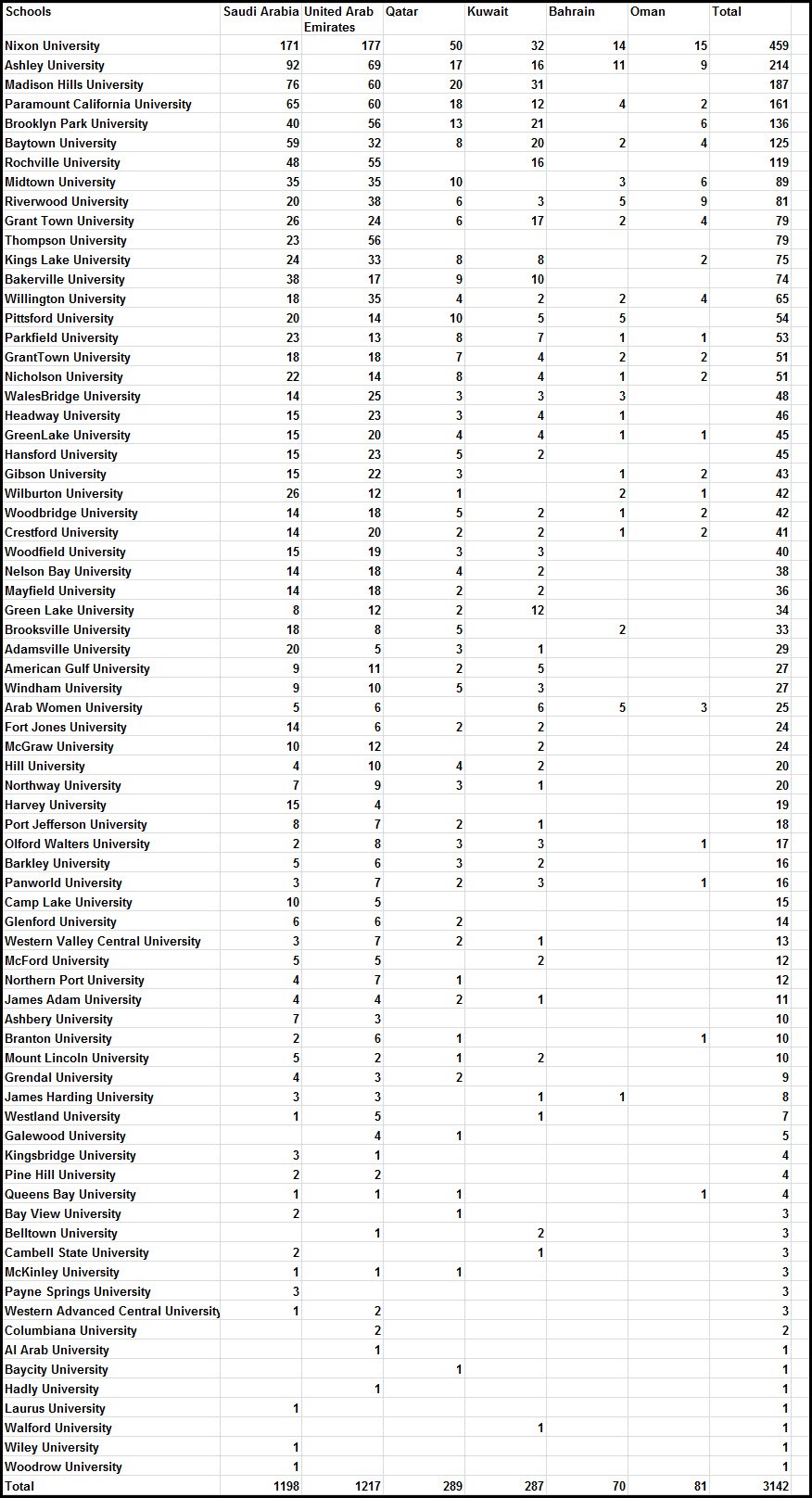 The bogus degree industry has been in business for decades, but with the ability to advertise on the Internet and social media such as Facebook, they have taken the business to the next dangerous level. Many adults who want a degree because they must have one to get a job or get a promotion seem to be the easy target and will pay the money assuming employers do not check the validity of the degree. "Between 2011 and mid 2015, AXACT? issued degrees and diplomas from 350 nonexistent universities to over 200,000 Middle Eastern residents. Axact scam generated hundred's of millions of dollars."
What does this all mean? The good news is one group Axact has been caught, but the bad news is there are many others doing the same thing.
The USDLA was founded "on the premise of creating a powerful alliance to meet the burgeoning education and training needs of learning communities via new concepts of the fusion of communication technologies with learning in broad multidiscipline applications." Among its goals it is to:
- Provide national leadership in the field of distance learning
- Provide current information on distance learning
- Serve as a catalyst for the formation of partnerships among education, business, healthcare, and government.
Schools such as Nixon University, Paramount California University, the University of Atlanta, and likely others, have stated they are USDLA members and insinuated this meant they were an accredited institution (a seal of approval).
USDLA has many fine members including quality universities and colleges that are profit and non-profit institutions. The reputation of legitimate accredited institutions are being damaged by bogus schools worldwide. To give you an example, accreditation agencies in the Middle East region generally do not recognize online degrees. In the UAE, just over 100 academic institutions worldwide that offer online degree programs are approved of which only 34 are from the U.S. In my conversations with government officials this will not change until they have the confidence which schools have proper online programs and a methodology to certify the school meets the standards of a physical institution.
It is in the interest of the membership to take action to clearly identify legitimate online educational institutions and "out" the bogus groups.
So what should be done?
- The USDLA should develop a public advocacy campaign to identify to the public diploma mills.
- The USDLA should join with other education organizations to produce public awareness campaigns on what it means to be an accredited institution.
-The USDLA should call for state and federal action to put diploma mills out of business.
- The development of international face-to-face seminars and webinars in conjunction with similar groups like USDLA such as EDEN to show the E-Learning community is taking a leading role in ridding these scam companies.
- Work with international education ministries to assist in determining what constitutes quality online programs.
Educators, Don't Get Left Behind in the Digital Age
Read more about why educators should embrace these technologies!
Can Text Messages and Interventions Nudge Children Through School?
Is your school doing this?  If not, you might want to learn more and consider it! 
Creighton School of Pharmacy Celebrates 10 Years of Graduating Distance Students
Creighton University's School of Pharmacy and Health Professions is proud to announce the 10-year anniversary of its first graduating class in the Distance Pharmacy Pathway.
In 2001, Creighton began the web-based Distance Pharmacy Pathway in order to offer students an opportunity to achieve their professional goals without having to relocate. Many of the Distance Pharmacy students have obligations, such as a spouse serving in the military or the care of an ailing parent, that prevent them from participating in a traditional campus-based program. These talented and dedicated individuals, who entered as the inaugural class of Distance Pharmacy students, graduated in 2005 and pioneered the School's efforts in distance learning of the health professions.
As a graduate level, professional degree program, Creighton's Distance Pharmacy Pathway is quite unique. It remains the only fully accredited web-based distance pharmacy program to have graduated a class of students.
To date, Creighton's Distance Pharmacy Pathway has graduated more 500 students, and its alumni are working throughout the U.S. An additional 300 students are currently enrolled in the program.
Please join Creighton University in celebrating this significant milestone in distance learning. This achievement would not have been possible without the innovation and dedication of USDLA and distance learning professionals across all disciplines.